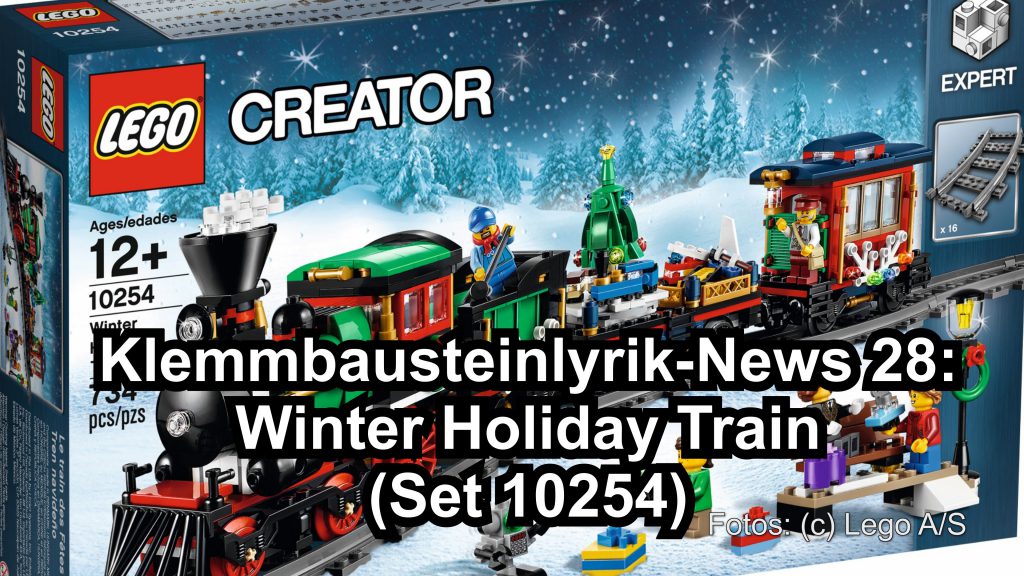 LEGO hat das neue Winter-Set 2016 bekannt gegeben und wie zu erwarten war, ist es der weihnachtliche Zug bzw. Winter Holiday Train geworden. Zwar gab es so etwas auch schon vor 10 Jahren einmal, doch zum Glück ist dies keine Neuauflage. Erhältlich ist der Zug mit drehendem Weihnachtsbaum ab dem 15. September 2016 für knapp 90 Euro. Der Motor muss jedoch nachgekauft werden.
Hier klicken zu dem Video bei YouTube.
Klemmbausteinlyrik über Patreon unterstützen: https://www.patreon.com/klemmbausteinlyrik
Hier die original Meldung von LEGO auf englisch:
10254 Winter Holiday Train, 734 pieces.
US $99.99 – CA $129.99 – DE 89.99€ – UK £69.99 – DK 799.00 DKK
Available September 15 to VIPs, October 1 everyone else.
Climb aboard the magical Winter Holiday Train!
Gather the family for some festive LEGO building fun with this charming model featuring a full circle of track, boarding platform with bench and lamppost, a Power Functions upgradable train engine with brick-built smoke bellowing from its stack, coal tender, flatbed wagon with a rotating holiday tree, toys and gifts, and a red caboose with a detailed interior and table.
The train engine also features large and small red-colored locomotive wheels and the train is decorated with green wreathes, string lights and white tree elements. This LEGO® Creator Expert set includes 5 minifigures.
Includes 5 minifigures: a locomotive driver, ticket collector, grandmother, boy and a girl.
The Winter Holiday Train includes 16 curved pieces of track, engine, coal tender, flatbed wagon with holiday tree, toys and gifts, caboose, boarding platform, bench and a lamppost.
Decorate the tree and drive the train to see the tree rotate.
Join the ticket collector in the cozy caboose for a delicious cup of cocoa.
Includes dual building instructions for a perfect family build.
Accessory elements include green wreathes, decorative lights and white tree pieces, plus wrapped gift elements and tiny brick-built toys, including a micro train, wind-up car, fire truck, remote controlled robot, sailboat and a spaceship.
Upgrade with LEGO Power Functions (not included) for a motorized engine.
Special elements include small and large red train wheels, dark tan windows, train buffers, cow catcher, white tree elements and roller skates.
This set includes over 700 LEGO pieces, including 16 curved tracks.
The Holiday Train in total measures over 4" (12cm) high, 20" (52cm) long and 2" (7cm) wide.
Curved rail track diameter measures over 27" (70cm).
Das Designer-Video ist bei YouTube auch schon online.
Podcast: Download (Duration: 7:28 — 221.7MB)