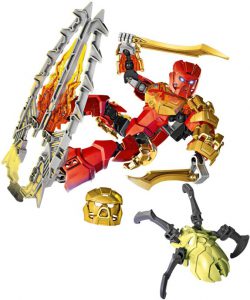 Letztes Jahr wurde die Bionicle-Serie von LEGO neu aufgelegt, die sogenannte 2. Generation. Waren die Bionicle-Sets doch um das Jahr 2000 herum so erfolgreich gewesen, das sie wohl auch mit dafür verantwortlich waren, dass damals LEGO nicht pleite ging bzw. aufgekauft wurde. Nun wollte man wohl den Erfolg bei der neuen Kinder- bzw. Käufer-Generation wiederholen, was zumindest nicht nachhaltig geklappt zu haben scheint: Bionicle wird Ende 2016 eingestellt. Aktuell kommen gerade die letzten neuen Sets in Nordamerika und Europa auf den Markt. Unter AFOL war diese Serie allerdings auch umstritten – zumindest bei denen, die nicht schon als Jugendliche damit aufgewachsen waren.
Hier das offizielle Statement von der Bionicle-Seite von LEGO (Foto: LEGO):
THE CONCLUSION OF "THE JOURNEY TO ONE" MARKS THE END FOR LEGO® BIONICLE® GENERATION 2
Fans, today we have to share the news with you that we have made the tough decision to discontinue LEGO® BIONICLE® at the end of 2016. NETFLIX has just started streaming the final two episodes of "The Journey to One" the ending of which, will put an end to any speculation about the future of LEGO® BIONICLE®.
With the 2015 relaunch of LEGO® BIONICLE®, we set out to revive a childhood favorite of fans worldwide, and bring it to a new group of children who were too young to have known and played with LEGO® BIONICLE® Generation 1. From your wonderful feedback over the last year, we feel very proud to have performed that task. Currently, the last wave of LEGO® BIONICLE® products is launching in Europe and North America. These products will, however, not reach the shelves in Asia and the Pacific markets.
Next up is the #BIONICLEbuildmakuta Rebrick Contest, starting August 1st, that will give you a chance to compete for some unique prizes. All you have to do is to give us your best shot at the Evil Overlord himself. Through the rest of the year, we will keep sharing artwork and other things that may be of interest to you on LEGO.com/bionicle and facebook.com/LEGOBionicle
On behalf of the LEGO® BIONICLE® team we would like to say that it has been absolutely thrilling to work on a theme that evokes so much interest, dedication and emotion. We would like to thank you for taking in LEGO® BIONICLE® Generation 2 and sharing all your builds, stories, artwork, joy, criticism and praise. By doing so you have not only expanded the universe but also made the amazing BIONICLE® Community even stronger and more amazing. We are confident that you will ensure that BIONICLE® lives on.
The BIONICLE Team